Friday, January 27, 2012
Packing to Avoid Wrinkling
The bane of any traveler's existence is the wrinkles and creases that end up in your clothes after you pull them out of your suitcase. Try these techniques to keep your clothes neat and crisp while they're en route to your destination.
Alternate Folding
One way to avoid creases in clothing is by placing one garment between the folds of another garment. By placing another garment between the folds, you can prevent a crease from forming.
In this example we're packing a dress shirt, a pair of dress slacks, a tie, and few t-shirts.
1. Start off by buttoning the bottom, middle, and top button of the dress shirt.
2. Lay the shirt facedown on a flat surface. Put your finger about an inch from the collar of the shirt and fold the sleeve into the shirt, forming a straight line down the edge. Bring the sleeve in line with edge you just created. Repeat on the other side. You should end up with something that looks like this.

3. Lay your tie completely unfolded along the length of the shirt. Place a folded t-shirt at the point where you want to fold the dress shirt.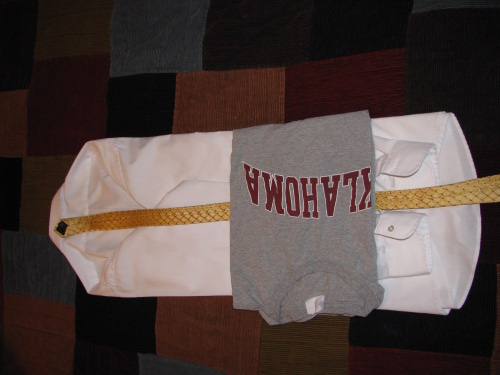 4. Fold over your dress shirt. Fold any part of your tie over that's hanging out of your shirt over your dress shirt. You'll end up with something like this.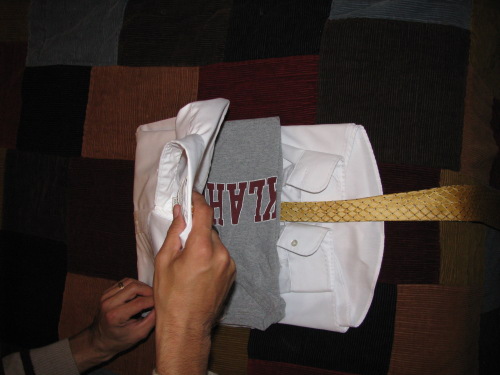 5. Now it's time to fold your slacks. Lay your slacks on a flat surface and place a t-shirt at the point where you plan on folding the pants. Fold.
6. If you want, place another t-shirt on top of your folded pants. Fold the bottom half of your pants over your t-shirt.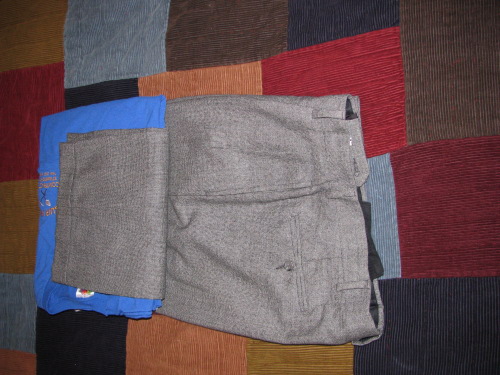 7. Flip over your pants, so the waist band is face up. Place another t-shirt where you want to fold the waist band over the rest of the pants. Fold. You should end up with three folds in your pants with t-shirts in between each fold.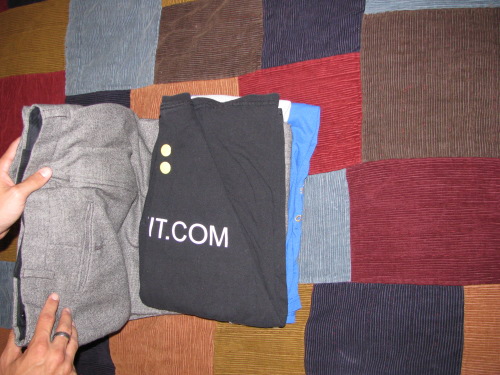 Fold and Roll
If the alternate folding method isn't your thing, you can always go with the traditional fold and roll method.
1. Roll up garments that don't wrinkle as easily. These include t-shirts, underwear, jeans, and cotton slacks.
2. Fold garments like dress slacks, dress shirts, and dress coats.
3. Place the rolled up garments on the bottom of the bag. Then place the folded garments on top.
4. Place shoes, socks, and your Dopp kit along the sides of the bag.
Find it all at: http://artofmanliness.com/2008/10/16/how-to-pack-a-bag-when-traveling/